Cupsuptic Lake Park and Campground Wilderness Camping
No Electricity

                   

No Showers

                 

No RV's
 We hope that you enjoy the primitive experience of our wilderness sites. 
Lakefront sites include: Smudge Cove, Raven, Cold Brook and Birch Island.
The drive-to sites W1-W12, although

not on the lake

, are along the beautiful Cupsuptic River.
Wilderness campers do not get access to the main campground amenities.

The store with wood, ice, water is open to all.
They all have picnic tables, fire pit and outhouse.
Rates are $32/night plus tax for 2 adults and children under 18YO.
Extra adults are $8/ each per night, children $5.
                                    LIMITS:   Birch Island  (2 docks @ sites 1 &6)  15 persons max only for entire island or 4-5 max per site individually.
Raven, Smudge Cove,  Cold Brook (all have docks)  – 6 persons max per site.
Hinkley Cafe, Cedar Bay and Eagle Cove (no docks) – 6 persons max per site.
Drive to wilderness sites #1-12

 – 4 adults max per site 0r 2 adults and 3 kids.
Shuttles to and from Boat-to sites $40 per trip.
Kids camps speak to manager regarding limits.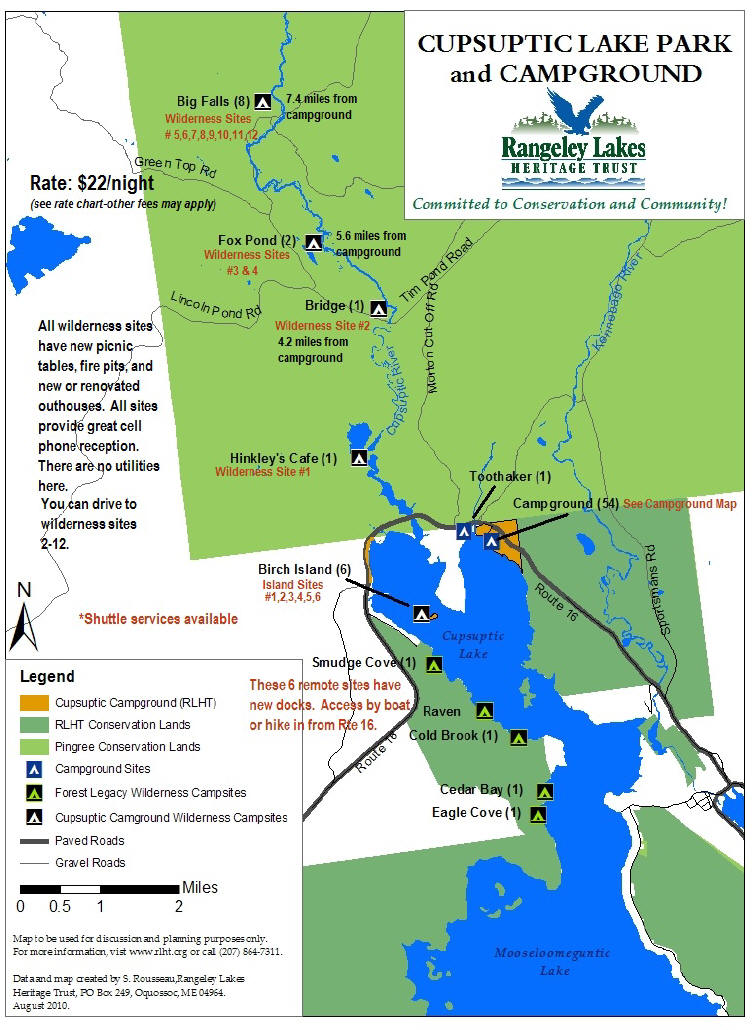 We are located on Rte. 16, just west of Oquossoc Village in the Scenic Rangeley Lakes Region.
We look forward to meeting you! If you have any questions, please feel free to contact us: 207-864-5249